A cutting-edge office space for LeMaitre in a new office tower in Aree-Bangkok, meticulously designed and expertly crafted by regroup architecture. This innovative workspace caters to the diverse needs of the company, incorporating a range of functional areas that seamlessly blend aesthetics with functionality.
Open office and private offices
Transparent glass walls define some private offices and smaller meeting rooms along the windows with a spectacular inspiring view of Bangkok's Aree area. Meanwhile, the modern workstations situated along the office's large windows promote an open and dynamic work environment, fostering productivity and creativity.
Breakout area
To enhance the sense of space and promote communication, a semi-transparent bookshelf gracefully separates the tea kitchen and breakout area from the workplaces, striking the perfect balance between privacy and connectivity.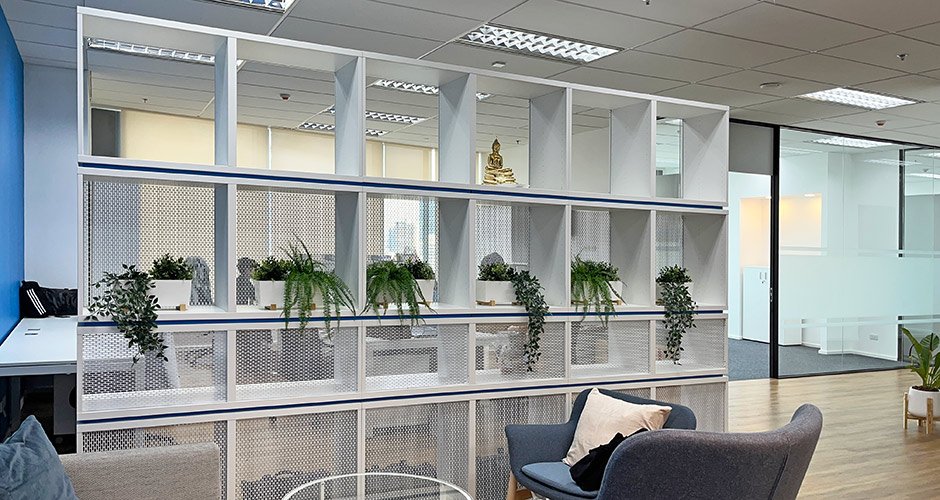 Training room
A standout feature of this office is the expansive training and board meeting room, providing ample space for collaborative discussions and strategic planning. 
Warehouse
Additionally, a standalone warehouse is dedicated to the efficient distribution of LeMaitre's surgical equipment, ensuring the company's operations run smoothly.
This office space stands as a testament to regroup Architecture's commitment to creating functional and visually captivating workspaces. It exemplifies the fusion of contemporary design with practicality, offering LeMaitre a forward-thinking and inspiring environment to thrive in the bustling heart of Bangkok.
Workscope:
Project design, interior design
Construction management
Project management
Quality survey construction site
Contracting
| | |
| --- | --- |
| Location | Bangkok |
| size | 260 sqm |
| workplaces | 6-12 |
| construction | Q3 2023 |