Call Centre's are a vital link between companies and their customers in an increasingly digital business environment and hence the effectiveness of the staff in these call centers is of paramount importance.
A Call Center is usually a high density – open plan workplace – a "cube farm" – a workspace that dramatically compresses the ratio of square meter per employee. One way to increase call center productivity is to provide an environment in which the call center agent is comfortable and inspired. The layout, look, and feel of the work environment feeds and reinforces the call center culture.
Efficiency is generally the key to call center success whether the employees are telemarketing, customer care /support, or telesales.
regroup architecture has in recent years designed and build several call centers for telesales companies in Bangkok and this article is a summary of the knowledge and experience gained working on these projects.


Types of call center
There are mainly two types of physical call centers: the Inbound and the outbound call centers. Each of them needs a different type of employees and due to their different work tasks, the best layout and design is also different.
Inbound call centers:
As the name implies, these call center are set up to receive calls from common public. The most common example of such call center is a customer service call center.
Their agents receive incoming calls for a business or organization, and they try to solve their queries and complaints about products and services provided by a company.
There are many inbound services, but some of the most common include:
Tech support
Loyalty programs
Hotlines
Help desk services
Chat support
Order processing
Outbound call centers
These are another type of call center where agents make calls to contact potential customers in a bid to do telemarketing. They can be an important part of lead generation or the sales funnel. While this may include calling leads to acquire brand new customers, other outbound services include:
Market research
Telesales
Appointment setting
Conducting customer surveys
Welcome calls to customers who have just started using a product or service
Billing explanations
Product recalls

Call center space organization and design
Every business is different — which is why you need a layout and room functions that are tailored to the corresponding business's needs and goals. regroup architecture analyses and develops the best possible match for each client. Our approach is a mix between bottom up and top town, Individual and General/ collective aspects.
General/ collective aspect:
Efficient space usage:
A high density of 2-4 sqm per agent is recommended in order to operate an efficient call center but still allow employees sufficient space to work. Beside the density, a simple room shape is also helping to increase efficiency.
Circulation/ traffic flow
Traffic flow affects a call center's design. Center aisles need to be wide enough to accommodate significant traffic without too much disturbance as employees pass through to go to restrooms, break rooms and exits.
An optimized allocation of the different functions will help to reduce the needed circulation routes.
Access
The actual call center room should be as mono-functional and quiet as possible and therefore an entrance area with lockers and waiting zones will act as buffer zone in front of the call center room. This enables also an effective access control to the actual call center room.
Relax and social zones
The sometime monotonous and intense work in a call center needs to get balanced with areas for relaxing and resting. These zones should be separated from the workplaces to minimize the disturbance. The aim is to focus and emphasize the social interaction between the agents in these areas. This will help to establish an social cohesion and keeps the focus at the workplaces high.
Learning, training, and meetings
An important role for the overall efficiently of a call center are the skills of the agents. To be and stay successful means to educate and train the existing and the new staffs on a continuous rhythm. The training facilities with meeting- and training rooms need to be sufficient in size and equipment to fulfill the needed training program.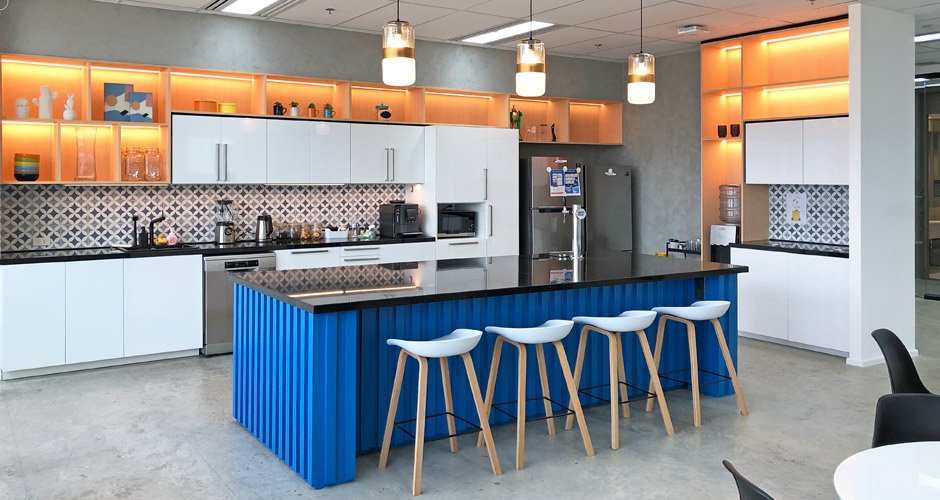 Individual aspect:
Ergonomics
Call center employees and tele-sales agents are sitting most of the workday on their desks in front of a screen. The ergonomics of the office chair, the height and size of the desk and the position of the screen and keyboard is very important for the wellbeing of the employees.
Climate
A confortable and healthy indoor climate with clean air, enough oxygen and pleasant air temperature is not only for the health and wellbeing of the employees, but also for the productivity of each agent important. Not enough oxygen and too much co2 will cause the productivity to drop noticeable. Indoor plants can be a supporting element to keep the air quality on a healthy level.
Light:
The amount and color of the light has also a direct impact on the productivity of the employees. We recommend to use at the workdesk white "daylight" (6500K) light sources and in the entrance and relaxe zone "warmwhite" (3000K) lamps.
Direct sunlight should be avoided because of reflection on the screens, but a window in sight can increase the attractiveness of a workplace.
Noise
Call centers tend to be rooms with higher noise levels due to it nature of work. Acoustic active ceilings, carpet floors, and desk separation panels help to keep the noise level on an acceptable level.
Call center sound masking with white noise devices can be in certain circumstances helpful to reduce the negative impact of the noise and increase the privacy of each individual call.
Design:
The overall interior look of your call-centre/ office can have a huge impact on your employees. Avoid dreary designs that would drain the enthusiasm out of your employees. Use attractive colours that inspire creativity, with uplifting decors that can improve their mood.
Studies have shown an important connection between workers and workplace design. The colour — or lack thereof — in your office can influence your employees' mood and emotions. In a profession where calmness and patience are key, the aesthetic values of your layout can positively contribute to workers' attitude and effectiveness.
Mistakes
A common mistake in the design process of a call center is only focusing on the actual call center room and amount of agents and ignoring the needed support functions. For example not planning for sufficient training space, no lounge / rest areas and conference rooms, a lack of sufficient restroom facilities, and storage areas. An effective call center should also have a human resources area for the interview on onboard process of new employees and a contact point for the existing employees.
Another problem field is generally the traffic patterns that mean agents and managers need to walk through work areas, and disrupting other employee unnecessarily.
Callcenter workplace layouts
The most useful call center layouts and workspace designs are the ones that aid productivity while conserving space. Consider the tasks your employees need to accomplish and the equipment they need to use to choose a layout that fits your company. Easier said than done, bur let's evaluate some of the desk layouts in a call-center room.
Row Layout
Workstations or cubicles lined up in a row is the traditional and most common arrangement for call centers. Square or rectangular cubicles arranged in rows usually have high dividing walls to give users some privacy. The high dividers also deflect noise to prevent distractions caused by other workers' phone conversations. However, arranging cubicles in rows can make employees feel boxed in at their workspace. High dividers also inhibit conversations between employees who may need to consult with each other when problems arise. While this is all fine and dandy, this arrangement is not the most cheerful and appealing to the eye, making it look more like a manufacturing production line than an office. A row layout prioritizes function over atmosphere, which may not facilitate the best work environment for every call center.
Pros
Efficient use of floor space and also convenient for cabling.
Noise reduction, separating panels stop calls being obscured by background noise.
Cost effective, the furniture is relatively cheap to buy and gets the most out of what you pay for office space.
Cons
Can feel lonely and claustrophobic. This isn't the best layout for a happy office. Sitting in a square box all day, unable to see your colleagues, can make agents feel a bit like battery hens.
Supervisor station Row Layout
A supervisor station layout could take many forms, but the general concept involves a cluster of cubicles attached to a single, raised supervisor desk. By sitting at a taller desk, a call center supervisor can complete their duties while surveying operators. If monitoring and supervisor interaction is a key part of your call center's workflow, this layout may be a convenient setup.
Pros
Easy monitoring: The positioning of a supervisor station layout allows supervisors to monitor operators' work, identify issues and help resolve problems quickly.
Space-efficient: Much like rows, supervisor stations have an ergonomic design.
Cons:
Superiority: When you elevate a superior's desk over their coworkers, this might not promote a healthy work culture, even in the most balanced environments.
Less privacy: Having someone look down on your work removes privacy and can feel intimidating.
Quad / Pods Layout
Some call centers have quad tables, which are separate tables divided into four workspaces. The tables are arranged so that two workers can sit next to each other and directly across from two others. Some quad cubicles look like large tables divided into sections like a pizza with four desk "slices." Other quad styles take the shape of a plus sign made up of four L-shaped desks. Whatever the configuration, a quad layout creates neighborhood-like clumps of cubicles scattered throughout a floor plan. The dividers separating the workspaces are low so that employees can converse and collaborate on projects. Low dividers create a more open feel in call centers than high dividers do. However, you may see productivity drop if quad-table arrangements and low dividers tempt workers to spend more time talking to each other than making calls.
Pros
Open feel: A quad layout facilitates an open office feel, while maintaining the privacy and noise control of a cubicle. The increased open space can make an office feel larger and more inviting when compared to a row layout.
Collaboration: Because quads put four operators at the same table, it can ease and encourage collaboration.
Aesthetics: Quads fight against boring cubicle layouts with an interesting and modern design.
Cons
Less space-efficient: You won't be able to pack as many quads into a room compared to rows
Possible productivity drop because this configuartion tempt workers to spend more time talking to each other than making calls.
Zigzag Layout
The zigzag or honeycomb layout strongly resembles the edge of an unfolded fan, where the corners of the cubicles stick out, giving employees more room to move around than the standard square or rectangular workstations. The zigzag layout includes high dividers, but the additional space produces less of a boxed-in environment than traditional cubicles. While this is one of the most ideal layouts, a zigzag office arrangement is a more expensive and complex option.
Pros
Modern look: It provides a fresh and open look while maintaining the efficiency of interlocking cubicles
Space-efficient: Each zigzag forms a straight line, which enables you to take a row approach. Zigzags maintain the space-efficiency offerd by rows without the sterile feeling of a classroom-like office.
Cons
Higher Cost: Zigzag cubicle incorporates larger desk sizes, which may make them more expensive than standard row cubicles.
The effect of colors
By using color psychology you can encourage telemarketers to sell more – or stimulate support agents to show more empathy with callers – or to calm a stressed out agent.
Blue
Blue may be the healthiest color. Blue lowers heart rate, blood pressure and respiration. Like green, blue is great for brainstorming and detail-oriented work. For a lot of routine office work and to stimulate your mind, blue will be the most productive color
Blue is ideal for a high call volume Telephone Answering Service/Order Entry Dept. – where Agents must focus & concentrate under pressure to accurately transcribe the information being provided to them by callers. Blue helps to maintain keep a calm atmosphere – slows the heart rate – suppresses hunger – and reduces blood pressure.
If you do mind-work all day, we recommend some blue elements in your office, but spicing it up with some orange to introduce a bit of emotion into your mind-stimulating rooms.
Ideal for detail-oriented work
Ideal for high volume call center
Calms and soothes
Promotes trust and communication
Improves efficiency and focus
Lowers heart rate, blood pressure
Yellow
The color of sun and fun, yellow is a welcoming, energizing, color. It's best used in creative, active environments. Yellow stimulates your ego and spirits, and makes you more optimistic.
Soft yellow is great for a Telephone Sales office – where the staff needs to maintain a positive frame of mind while managing cold call rejection. Soft yellow is cheerful & happy – increases cardiopulmonary activity – increases energy flow – and enhances productivity.
Encourage optimism
Supports focus and direction
Promote innovation
Stimulate creativity
Welcoming and energizing
Green
If you're in an environment where having a strong sense of balance is the most important, green might just be the color that makes you the most productive. Green is a good choice for a Customer Service & Support Contact Center. Green – a mix of blue and yellow – is a well-balanced color that helps workers weigh the pros & cons of a situation – and to show more empathy with callers. Green also helps to maintain a tranquil & calm work atmosphere.
Adding some plants is a simple way to include green in your color scheme.
Promotes harmony and balance
Reduces anxiety
Calming, and reassuring
Reduces eye strain
Tend to be stagnant and inert
Red
If you want to be more productive doing something physical, red would make you more productive than either blue or yellow, because it stimulates you physically. Red can make people feel that a room is warmer than it actually is. Red works well in spaces that involve physical activity or nighttime work.
A red accent wall in the lunch room/cafeteria can increase the appetite – generate a feeling of excitement – and create a social & talkative atmosphere.
Increase brain wave activity
Boost heart rate and blood flow
Incite activity
Physical strength and stimulus".
Turquoise
Turquoise in light to medium tones is appropriate for walls in training rooms. Turquoise helps in calming the nerves of trainees and is a good color for a teaching environment.
Calming the nerves
Teaching environment
Read more about "Office Color Schemes: The Psychology of Productivity"
Article by Lukas Guy Schnider,
Managing director of regroup co., Ltd.,
M.Sc. ETH Architecture
---
About regroup architecture
regroup architecture is a Bangkok based architecture design firm. 2014 founded by Michael Chompookas Hansen and Lukas Schnider, focusing on contemporary, innovative, and sustainable architecture and interior design.
regroup architecture covers the whole design and planning process including construction management and contracting as turn key solution.
We see us as a mediator between Europe and Asia, a combination of Swiss design, European knowledge, and local Thai experience.
Beside residential and commercial projects, we did in the recent years many office fit-out projects for established and start-up companies like Asian Tigers Mobility, eatigo, foodpanda, sevenpeaks software, rabbit finance, MAQE, gogoprint, HotelQuickly, and PlanB media.
---