Innovative and efficient head office for RABBIT Internet in Bangkok.
regroup designed the new office of the newly founded tech company RABBIT Internet in Bangkok Lumpini area.
RABBIT Internet is a young tech company located in the Krits office complex at the heart of Bangkok. The 300-square meter loft-style office is designed to meet the professional needs and personal comfort of software developers, content marketing specialists, and management team. The RABBIT office is able to hold 80 people within its efficient, clearly defined layout that includes three work areas, a resting space, and a staff room. Neutral white walls and warm-toned wooden floors are the common theme while the company's orange and white rabbit-shaped logo can be found engraved on walls, as large door stickers, or as furniture.
A section containing private white desks for wide computer screens was designed for the individual nature of software developers' coding work. Another section containing large desks for laptops, free seating, and teamwork was designed for the collaborative marketing team. Dividing these two sections of open space are a unit of enclosed management and meeting rooms equipped with sliding whiteboards and metal panels to control privacy.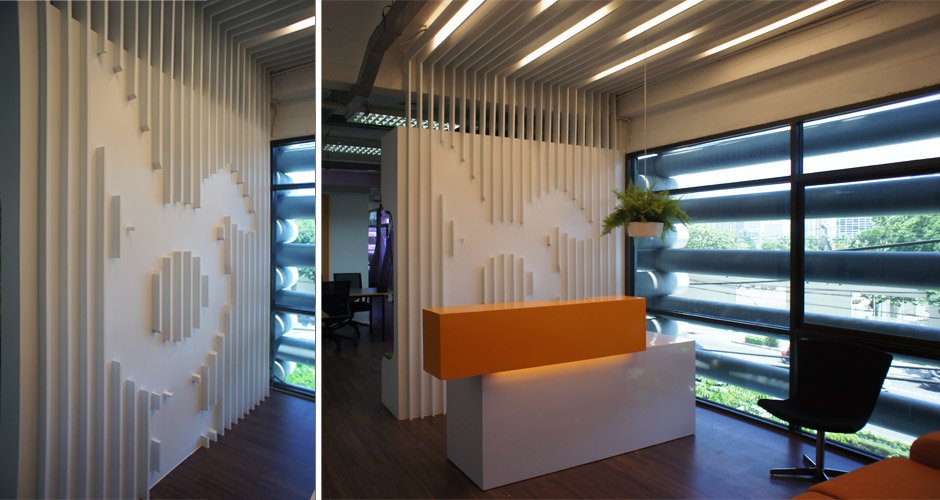 The power and LAN cables are distributed from the ceiling and run along hanging planter boxes with real Fern plants to the individual work desk islands.
To give contrast to the technical feel of computers throughout the work areas, pots of fern hang from the ceiling with power and LAN cables draping along them. In the resting space, astroturf and egg-shaped niches allow for relaxation, quiet shelter, and creativity while a bar table placed along the window encourages informal discussions. The staff room is lit with a more playful atmosphere as it accommodates a rabbit-shaped table, a foosball table, and a wall of astroturf to pin announcements and photos.
The community room contains a large rabbit shaped bar table, a foosball table, and a "green board" to pin photos of all employees as well as company notes.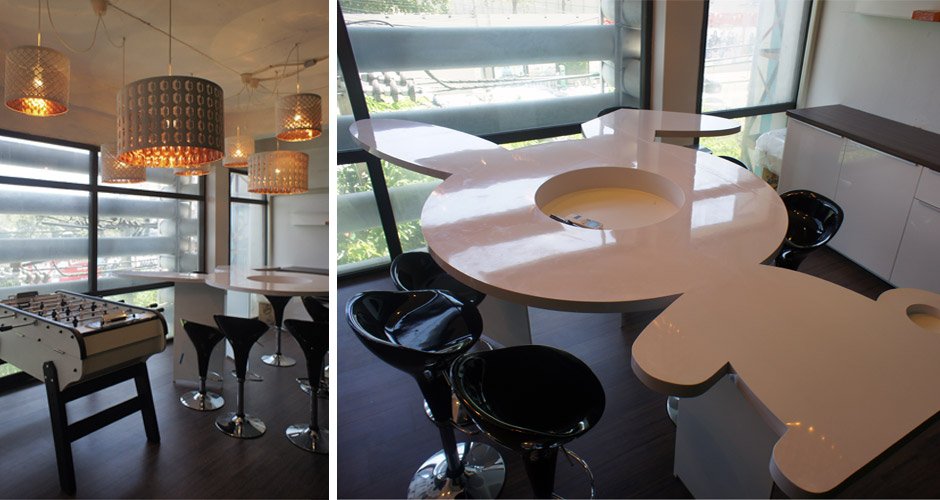 About regroup
regroup is a newly-formed multidisciplinary and multi-language team, covering the whole design and planning process. The Thai, Swiss and Danish-owned firm combines Swiss quality, Danish design and local Thai expertise.
| | |
| --- | --- |
| Location | Krits Building Lumpini, Bangkok |
| Floor area | 320 sqm |
| Workplaces (fix/ additional): | 70-80 |
| Room height | 3.2m |
| Construction | Jul.-Aug. 2015, 4 weeks |
| Architecture | regroup | Lukas Guy Schnider, Ekkrit Suwanwong |
| Construction management | regroup |
| Client | RABBIT internet / ASK Hanuman |