Loft living in housing term is about as open plan as you can get. For artists and bohemian types, loft living is now a sought after lifestyle accessory. Previously, staving artists had to sleep in their studio lofts to avoid paying rent, but now loft living is one of the most sought after type of housing among certain groups of people.
Artists, actors and young business professionals all love the idea of having a loft as their home. It provides maximum space, and improvements can be made if desired. Usually, lofts are found in the commercial areas of a city. Before they were turned into stylish living spaces, the lofts were commercial buildings. Older buildings that have been left empty for years have now been given a new lease on life, thanks to loft living.
Over the past ten years, the idea of loft living has taken a massive leap. The lofts, or as they are sometimes advertised, spaces, are usually located in very large buildings. They also have the benefit of very high ceilings and original wooden floorboards. The windows are also particularly large, providing maximum natural daylight. This excess light is much sought after by artists.
Another bonus of loft living is that the lofts are usually situated in downtown areas. This provides great access to businesses and entertainment areas. In downtown areas, everything is at your doorstep.
Lofts can also be customized to the owner's specifications. The owner can choose to leave the natural exposed brick wall or cover it with a design of one's choose. One can also place dividers throughout the loft to make separate rooms.
Some of the most coveted loft spaces in the world are situated in Manhattan, New York. Areas such as Soho, Chelsea and Tribecca, where there is an abundance of artistic and creative types, have many lofts. They are also some restrictions to the lofts situated there. For example, one must be a full time artist to live in certain lofts.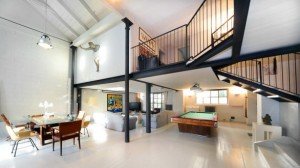 In the last ten years, many major cities throughout the world have begun to welcome the idea of loft living. It is a way to generate life into what were previously deserted sections of the inner city. Loft living has come a long way from the romantic days of the starving artists, though for many, it may be seen as a way to bring that idea back to life, albeit for a price.