regroup designed and constructed a 280 sqm office for the new Frank Legal Tax office in Bangkok.
A law firm office in the heart of Bangkok, seamlessly fusing the timeless charm of a classic British style with the efficiency and contemporary elegance demanded by the modern workspace. Large wooden built in bookshelves and sideboards in the the meeting room, reception area, and open office are the traditional backdrop for the modern office furniture and state of the art equipment.
Along the office's expansive windows, offering panoramic views of the CBD along Wireless Road, private offices for senior management are located alongside team offices and an connecting open office, fostering collaboration and innovation. The office design balances an open, transparent layout encouraging camaraderie and interaction, while preserving the essential confidentiality vital for a legal practice.
Reception
Office
Meeting room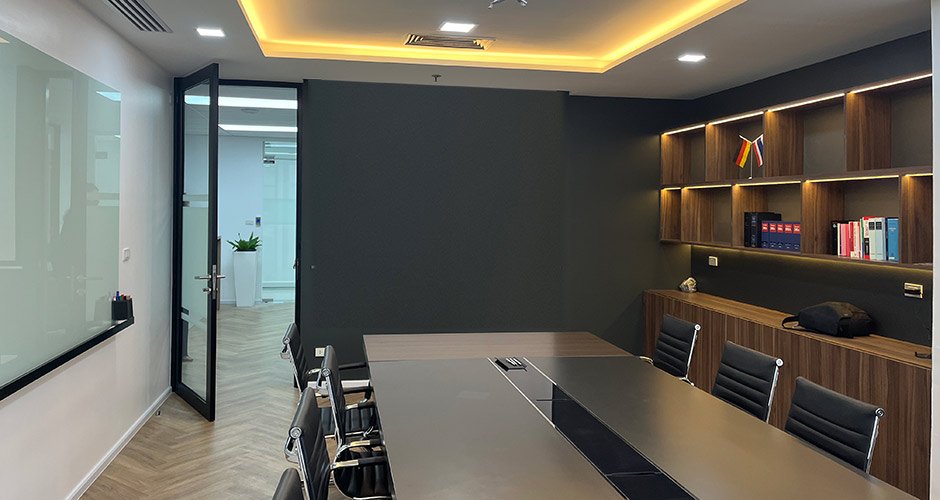 The space not only caters to professional needs but also nurtures a sense of community, featuring a convivial canteen for staff to socialize. The spacious reception area stands as a testament to the office's welcoming demeanor towards clients. This office project converges the past with the present, professionalism with congeniality, culminating in a lawyer's office that's as functional as it is inviting.
Workscope:
Project design, interior design
Construction management
Project management
Quality survey construction site
Contracting
| | |
| --- | --- |
| Location | Bangkok |
| size | 280 sqm |
| workplaces | 20-30 |
| construction | Q3 2023 |